NYLP Alum: Where Are They Now?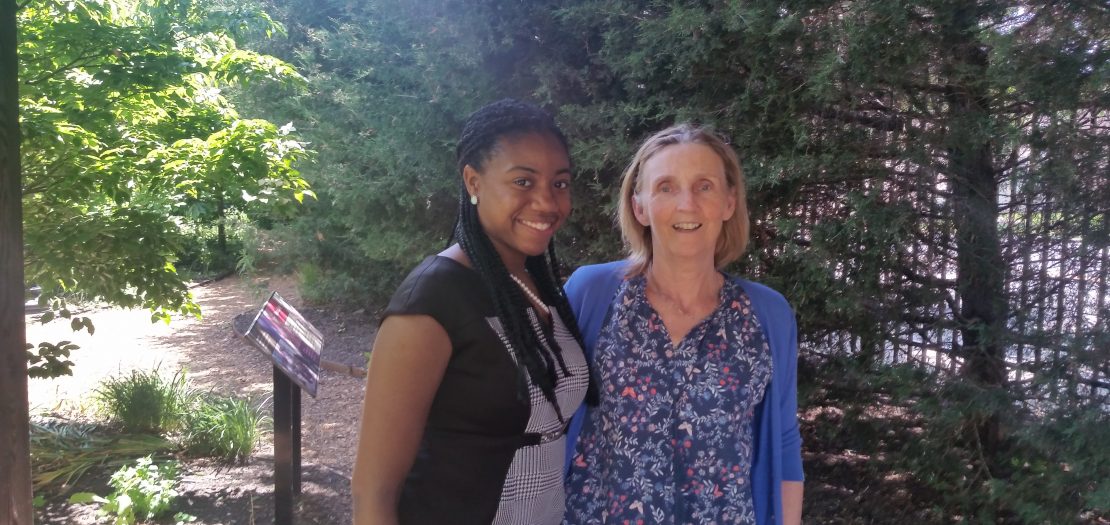 In June, we were graced with the presence of D'aundra Lewis, a former Newark Youth Leadership Project (NYLP) intern, While D'aundra spent some time with staff reminiscing about her time with us, we took the opportunity to sit down with her to catch up on life and learn more about her journey after the Conservancy. Below are several questions we asked, and this is what we learned in D'aundra's own words.
Q: What year were you involved with Greater Newark Conservancy? And what type of activities and assignments were you involved with at the Conservancy?
A: In 2013, I was a student mentee for Greater Newark Conservancy. At the time, I had graduated from high school and was preparing to leave for Pennsylvania State University in the fall. I was assigned to the Greening Department and really enjoyed working with the team. Quickly I learned that working with the Greening Department required a significant amount of hard work. Our responsibilities mostly involved traveling to different lots owned by the Conservancy and clearing out the space by weeding, trimming the grass, cleaning up garbage, and planting. Personally, I got see a different side of a city that I grew up in all my life. Usually, when people speak of Newark, they only mention the negativity that occurs but rarely hear of the beauty of the city and the people who live in it.
Q: How did you learn about us?
A: Because I am a Newark resident, it made since to apply for a job through the Newark Youth Summer Employment Program. I was honestly just looking for a job, before I went off to college. When I was selected for an interview with Greater Newark Conservancy, I was a little nervous, since this was my first time hearing about the organization. When the interview ended, I walked away enthused about the possibility of working for the Conservancy. I didn't realize how much the organization impacted the environment and the community of Newark. Instantly, I knew that I wanted to be a part of this organization, although it was unrelated to my intended major, forensic science chemistry.
Q: What is your major at Pennsylvania State University? And when do you expect to graduate?
A: My major is Biological Anthropology with a concentration in Forensic Science. I will be graduating December, 2017.
Q: Share with us about your experience traveling abroad.
A: My first time abroad was during my sophomore year, where I had the opportunity to volunteer for the Outreach 360 program. My assignment was to work in Nicaragua, where I and several students taught English to children and helped to build a sidewalk for a community church in Jinotega, Nicaragua.
My second study abroad experience took place spring semester, senior year, where I was accepted to enroll in an embedded course, which is a class that involves traveling to a country during the school break, as part of the class. The course that I selected was "Anthropology of Alcohol" which would educate me on how alcohol is consumed and how it affects the social dynamics in other countries. My study took place in Scotland and during that time, I learned how alcohol affects the social dynamics of the community. Another added value was the opportunity to visit several cities: Edinburgh, Pitlochry, Aviemore, Portree, Oban, and Glasgow. From this experience, I gained an independent study with my professor to further research alcohol use in Scotland in comparison to America.
Currently, this summer I will be working on an excavation site in Tel Aviv, Israel to study archaeological field methods and study the history and material culture of ancient Israel and the eastern Mediterranean. Along with working on an excavation site, I will be taking a course involving community outreach. I am really excited about the opportunity and have worked diligently to have this trip come to fruition.
Q: What did you learn from your experience with us at the Conservancy?
A: While working at Greater Newark Conservancy, I was in a transition phase of life. The entire summer I was preparing for my new journey at college. During that time, I spent an adequate amount of time reflecting. Working in the Greening Department was therapeutic and every time I saw the transition of the garden or city lots my group had worked on to clear and organize, I reflected on the transitions in my personal life. There were some areas that we were assigned to clear out and organize that looked a complete mess. It was overwhelming to think about the work that lied ahead. However, through determination and dedicated teamwork, we always achieved our goals. The beauty that lied before us was ineffable. What I saw was me.
Most people only know my accomplishments, but very few know what it took for me to achieve them. I grew up in the Southward of Newark, with a dream and little money to make it happen in a single parent home. I know what it feels like to have your innocence stripped from you, to be ill, to be told where you weren't going and what you can't become. When I was in middle school, I experienced severe health issues convinced me that I probably wouldn't survive to see my young adult years. However, it was my mother who stuck by my side and helped me through those challenging times. Throughout the years, she taught me to do my best and let God handle the rest. So I did. With sweat, blood, and tears, I got into my number one choice college! For me, Greater Newark Conservancy taught me that I would be clearing lots forever in my life, and I aim to help others to see they are capable of overcoming their obstacles as well.
I am forever thankful to Greater Newark Conservancy for showing me the value of teamwork, community, personal growth, and love. At the end of the summer in 2013, I had the great pleasure of taking everything I learned and compiling it into a presentation with my teammate Jasmine. Everyone in the group contributed in some shape or form. By combining our talents, we created a PowerPoint defying the stereotypes of Newark by showing how Eco-friendly it is to grow your own food. I hope to continue to show through my actions the beauty that grows from Newark and take others along with me.
Q: Who do you admire the most? And Why?
A: I have a motto where I say "I Choose to Live". To me, choosing to live means to make the conscious decision to live life to the fullest and wholeheartedly despite obstacles. It means to let God be the guide in my journey and dreams. It means to have love, peace, and joy. I admire people who choose to live. My mother, Patricia Price is someone who I admire deeply because she planted the seeds in me as a young child experiencing health issues to never give up. She has sacrificed so much so I could be able to live my dreams. She is one of the most self-less people I know. I admire her so much that she is a part of why I don't make excuses. I want the best for my mother, and I pray that one day, I can give back to her because she deserves it.