#Newarks Rocks: Kindness Rocks in the City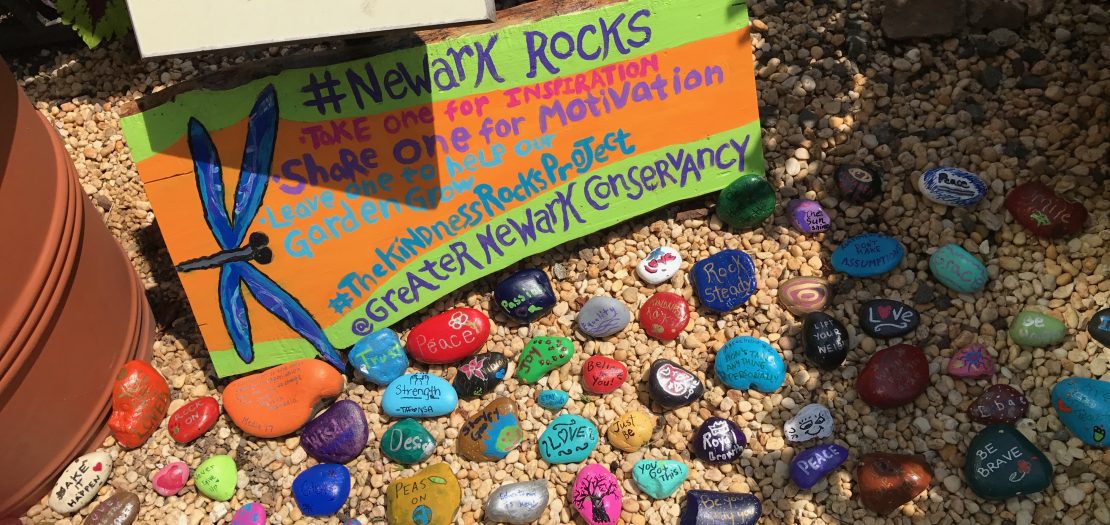 Need a little kindness in your life? Looking for inspiration or the opportunity to inspire others? You'll find it in a green urban oasis in the heart of Newark. Greater Newark Conservancy has started the city's first Kindness Rocks Project Garden. #NewarkRocks: The Kindness Rocks Project, is set in the Conservancy's Nelson Mandela Freedom Garden at the Judith L. Shipley Environmental Learning Center (32 Prince Street, between South Orange and Springfield Avenues).
When you enter the garden, you are greeted by a brightly-colored, hand-painted sign that invites visitors to "take one for inspiration, share one for motivation, or leave one to help our garden grow." Surrounding the sign are colorfully painted rocks of different shapes and sizes with words like "Grow" or "Peace" and sayings such as "Be the Change" or "You Are Loved".
Community members, including participants in the Conservancy's spring and fall block parties, volunteers, including several groups from Horizon Blue Cross Blue Shield of NJ, Newark Youth Leadership Project interns, and Greater Newark Conservancy staff, have painted the rocks with the intention of spreading kindness and love throughout Newark and beyond.
Founded by Massachusetts resident Megan Murphy, the Kindness Rocks Project hopes to create connections with unsuspecting recipients by painting and sharing rocks with inspirational messages that are left in locations across the United States and around the world for those in need as random acts of kindness.
"The Kindness Rocks project can be summed up as the art of connecting," Murphy stated. "The rocks connect people to one another and act as an offering of kindness, hope and compassion. When we create something, and leave it as an inspiration for another, we build upon this and we let people know that they matter and are understood. That is what we all crave and what connects us as human beings."
Rocks were hidden throughout the gardens at the environmental learning center for visitors to find. The Conservancy will also be adding a box where people who are just strolling through the gardens can pick a rock and create their own to add.
Essex County clients of the New Jersey Reentry Corporation are also encouraged to create their own Kindness Rocks. Based at the Conservancy, the organization assists citizens in entering the work force after returning to the community post incarceration. One rock will be to take home (or trade with other clients) and one to leave for the garden, to demonstrate that their words are important and no matter what they've been through, they can inspire others too.
The Mandela Freedom Garden was chosen as the home of the Kindness Rocks Project for its symbolism; Mandela tended a small garden during his 18 years as a prisoner on Robben Island, South Africa.
Isabella Bonilla and Beatriz Cabral were part of a group of NJIT students volunteering at the Conservancy during the recent fall block party. They noted the importance and value of connecting with nature in a hands-on way at the environmental learning center. "The Kindness Rocks Project located in the Nelson Mandela Freedom Garden sends a message of positivity that the world needs right now," Bonilla concluded.
For more information about the Kindness Rocks Project, visit www.thekindnessrocksproject.com or www.facebook.com/TheKindnessRocksProject.