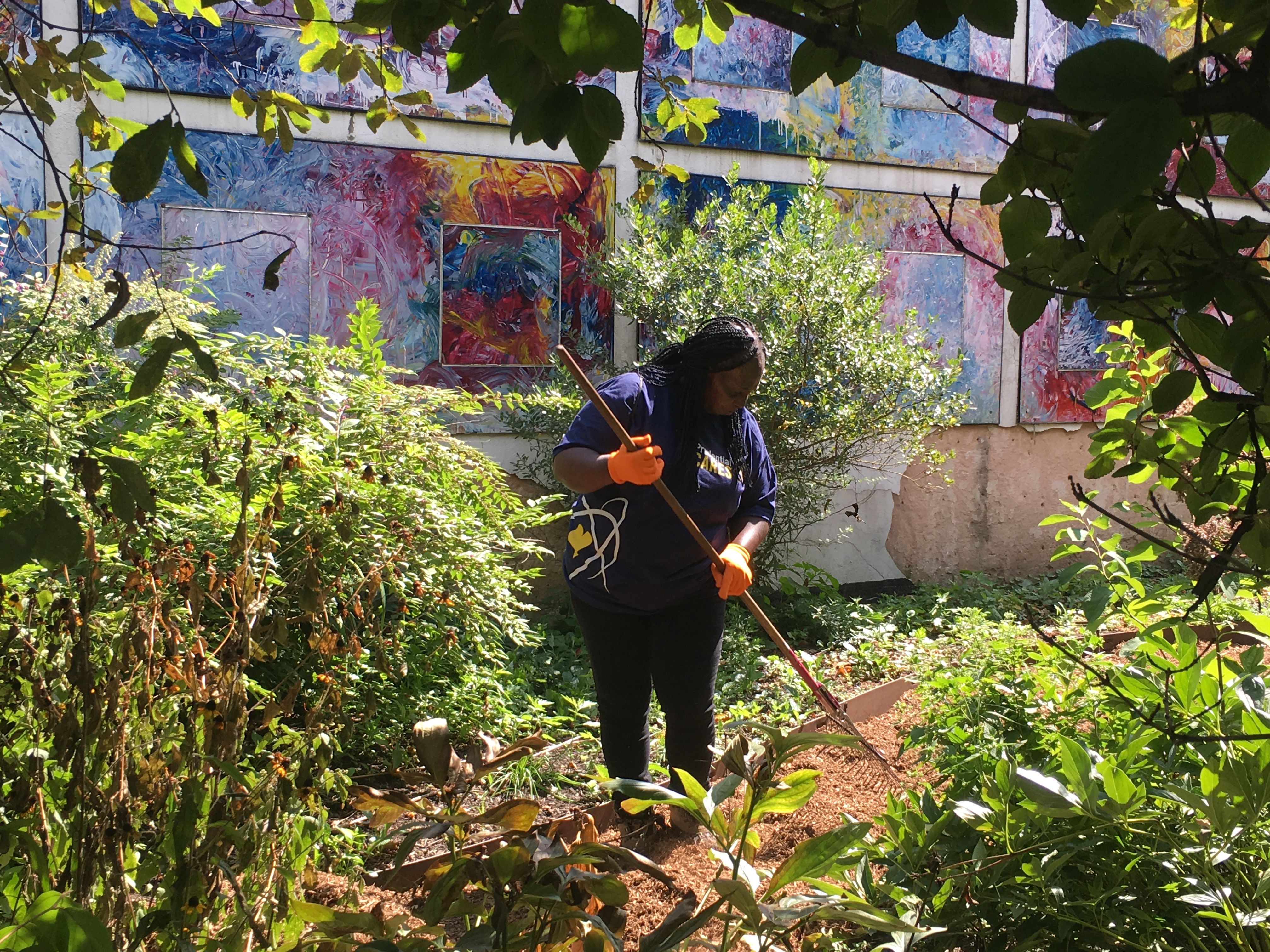 It feels like we had a new team of volunteers every day in September. From Hawthorne Avenue Farm to the Judith L. Shipley Urban Environmental Center, there's always something that needs to be harvested or spruced up.
To celebrate the start of school, we welcomed Montclair Kimberly Academy to the Hawthorne Avenue Farm. These high school students received a tour and then weeded and harvested produce. That same week we hosted 45 students from Community Action at Princeton University. At the farm, these volunteers planted lettuce and installed a new Hawthorne Avenue Farm sign. The students that visited the Urban Environmental Center revived our planters on Springfield Avenue, weeded the garden, and removed sidewalk bricks to promote tree growth.
On September 13, a small-but-mighty group of volunteers from Prudential Financial donated and spread Fibar mulch throughout the Urban Environmental Center. Fibar engineered wood fiber is ideal for safety, purity, and wheelchair access—perfect for the grounds of our outdoor learning center. These generous volunteers, led by the energetic Georgie Pinckney, finished their project sooner than anticipated and were able to enjoy a much-needed break under the canopy of the garden.
We also had volunteers visit from Port Authority of New York and New Jersey, Rutgers University, and Audible. As always, thank you to all of our esteemed volunteers for truly planting seeds, growing community, and changing lives!
---
Become a Volunteer
Greater Newark Conservancy is always looking for additional help on our Hawthorne Avenue Farm and at the Urban Environmental Center. Learn more and contact us to set up a group or school volunteering event. We also host monthly Open Volunteer Days at the Hawthorne Avenue Farm for individuals and families. Want to volunteer more frequently? Contact us here.