Volunteer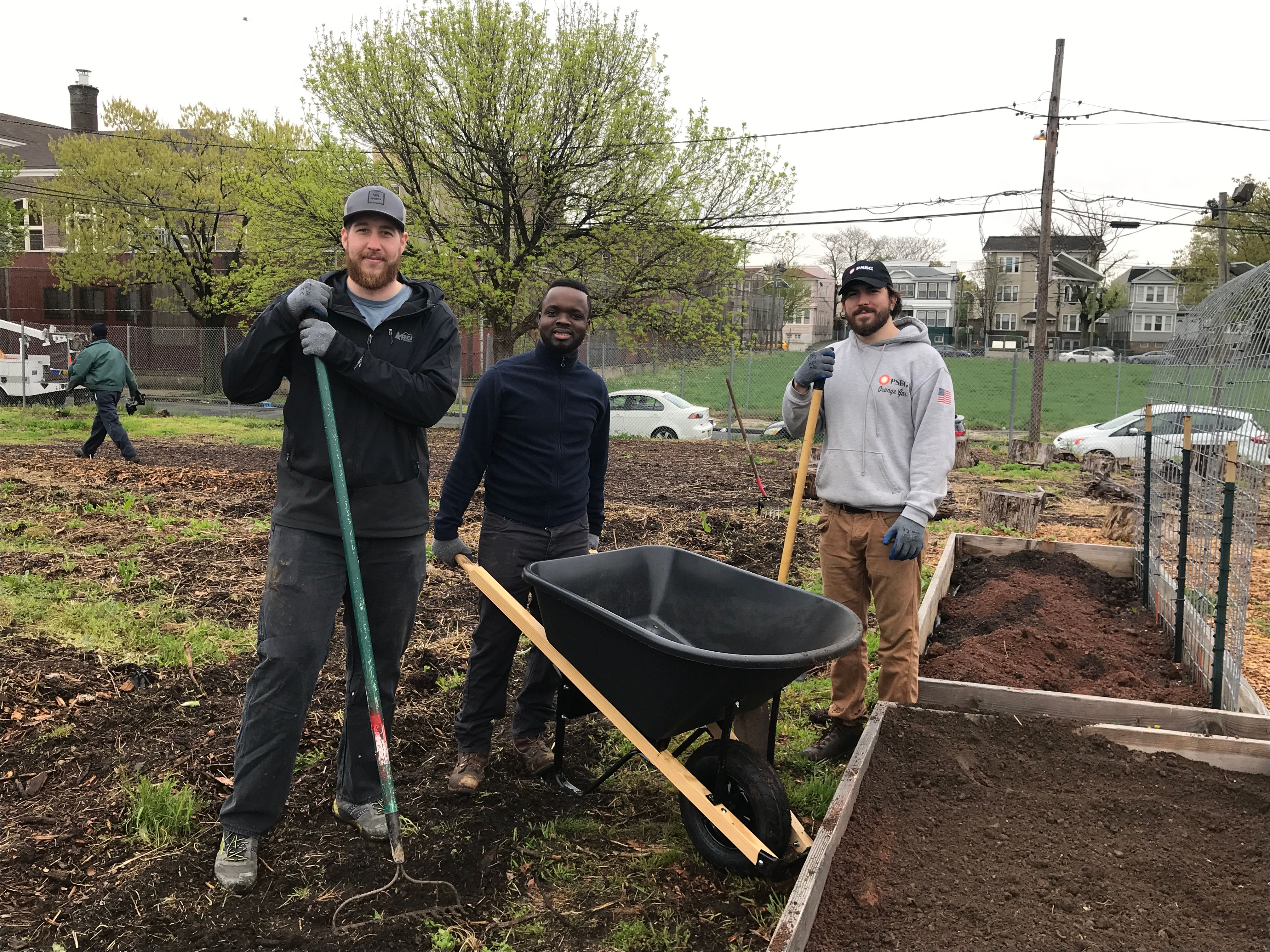 PLEASE NOTE--AS OF NOVEMBER 16TH, OPEN VOLUNTEER HOURS HAVE ENDED FOR THE 2020 SEASON. IF YOU WOULD LIKE TO ORGANIZE A FUTURE VOLUNTEER DATE FOR 2021 PLEASE EMAIL MICHELE AT MROBINSON@CITYBLOOM.ORG
_____________________________________________
Volunteers are a vital part of Greater Newark Conservancy's mission and operations. Due to COVID-19 we've reviewed our volunteers policies as we return to hosting individuals and small volunteer groups at our Hawthorne Avenue Farm and our Outdoor Learning Center
We are able to accommodate up to ten volunteers per day at the Hawthorne Avenue Farm on Wednesdays and Thursdays, from 9am-12pm and on Fridays at the Outdoor Learning Center from 9am-2pm.
Since we are limiting the number of volunteers at any given time, it is imperative that you complete the volunteer screening, between one week and 72 hours, before the date you'd like to volunteer. To protect all volunteers and staff from virus transmission, the form will need to be completed each time you volunteer. Unfortunately that means absolutely no walk-ins will be permitted at either location.
If you are not feeling well or have any concerns about volunteering PLEASE STAY HOME AND RESCHEDULE YOUR VOLUNTEER HOURS
Please review the following volunteer protocol before signing up to volunteer.
Before volunteering you will need to answer the following questions:
Do you currently have a fever?
Have you experienced any flu-like symptoms in the last 2 weeks?
Have you traveled to any of the high-risk countries in the last two weeks?
Have you been in close contact with anyone who has been diagnosed with COVID-19 or is suspected to be positive with the novel coronavirus?
If you answered YES to any of the above questions, are not feeling well, or if you have symptoms such as coughing, sneezing, runny nose or fever, you will not be able to volunteer at this time. Additionally...
If you have experienced COVID-19 symptoms or have tested positive, or if a member of your household has experienced COVID-19 symptoms or tested positive, please do not volunteer until you or your household member has been symptom-free and fever-free without taking any medication for at least seven days. 
All volunteers MUST bring and wear masks that cover their mouth and nose at all times.
All volunteers must sanitize their hands after signing in and will be required to wash your hands before and after all volunteer shifts.
Please bring a refillable water bottle. Please—no plastic single use bottles on site! (we are a GREEN organization!)
A staff member will ensure all volunteers are practicing social distancing and wearing their masks. Anyone who does not follow these protocols will be asked to leave.
Children must be over the age of 14 to volunteer.
Please know we appreciate you and are grateful for your time and for commitment to our mission. If you have any questions or concerns, or are interested in planning a group volunteer day, please email Michele.
NOTE: If you would like to volunteer for the COVID-19 Emergency Food Distribution Effort that takes place every Thursday, please complete the Volunteer Pre-screening Survey.