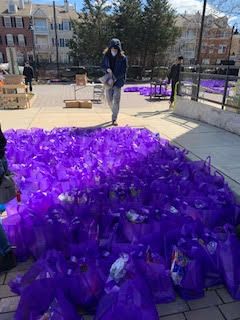 In response to COVID-19, five organizations have developed an emergency response and collaborative effort to address food insecurity to Newark Seniors living in the Lincoln Park community senior buildings.  The Emergency Food Distribution System is an outgrowth of the Sustainable Health and Wellness Village free three-day health festival and will operate weekly starting April 2 continuing every Thursday.
Five organizations have joined forces to bring nutritious and healthy food to the tables of more than 1,200 Newark seniors starting this week.  CARESPARC Consulting, in conjunction with Table to Table, is being joined by the Lincoln Park Coast Cultural District, the Greater Newark Conservancy and the Grotta Fund to source and deliver food for seniors living in five senior buildings in Newark.
According to Ilene Issacs of Table to Table, "Our no-cost fresh produce market, opened last summer, has been providing consistent access to healthier foods for the senior adults living in the Lincoln Park neighborhood of Newark. With so many restrictions placed on this population since the onset of Covid-19, we've been determined to ensure that in the least the fresh produce they have grown to rely on would continue. Along with the gratification of knowing that the nutritious food so desperately needed will again be in the kitchens of Lincoln Park's older adults, comes the tremendous joy of working together with so many outstanding organizations and people in this community who are motivated simply by the desire to do good and help one another."
The nutritious food is primarily fresh produce and other food items as well.  The Fresh Produce Distribution System is managed and coordinated by CareSparc Consulting, Inc., who working alongside Table to Table has been providing nutritious food to these same senior buildings in Newark since August 2019.  CareSparc also managed the Free Pop-Up Senior Fresh Produce Market, which has led to the Covid-19 Emergency Food Distribution System.   
 According to Keith DaCosta, Managing Director of CareSparc Consulting, "The pandemic resulted in CareSparc and Table to Table expanding our partners in order to serve more people than our original Pop-Up project.  The expansion resulted in Greater Newark Conservancy who has years of experience in fresh produce production and delivery, joining the team, along with the Lincoln Park Coast Cultural and the Grotta Fund.
According to Robin Dougherty, Executive Director of Greater Newark Conservancy, their headquarters, located on Prince Street will serve as the drop off point for pallets of food.  The food will then be packaged there for delivery to five senior buildings.  Jersey Cares is providing volunteers for the new cooperative. 
"In light of the unprecedented time our nation is facing, and in keeping with the Center For Disease Control's clinical expertise that tells us older adults and people of any age who have serious underlying medical conditions might be at higher risk for severe illness from COVID-19, it is our duty at Lincoln Park Coast Cultural District to continue our Senior Fresh Produce Market Program. Thank you to all of our Emergency Response Collaborative Effort partners, especially Mayor Ras J. Baraka, The City of Newark and all agencies, Central Ward Councilwoman LaMonica McIver and Council Member At-Large Luis A. Quintana for their ongoing partnership and support in providing fresh food to nearly 1,200 seniors at five senior buildings in the Lincoln Park Community," added Anthony Smith, Executive Director - Lincoln Park Coast Cultural District.
The nutritious foods are designated for the following buildings - Essex Plaza, Roberto Clemente Shalom Towers, Lincoln Park Towers, Court Towers Apartment, and Nevada Street Towers Apartment.
Ms. Dougherty said, "The Conservancy has a broad focus on the health of the community from nutrition programming to operating the largest urban farm in New Jersey. We have been engaged with Newark Seniors in distributing fresh produce from our farm to cooking and nutrition programs for the past five years so this was a logical partnership to join."
The Emergency Response to Food Insecurity is also in partnership with Mayor Ras J. Baraka and the City of Newark, Vice President of the Newark City Council and Councilman-at-Large Luis A. Quintana, Central Ward Councilwoman LaMonica McIver, the Newark Department of Health & Community Wellness, Jersey Cares, the Urban Agriculture Cooperative and the UPS Store.