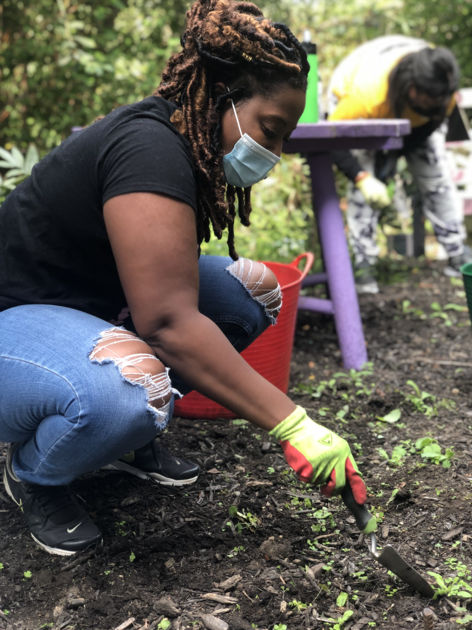 Greater Newark Conservancy (the Conservancy) announces a $100,000 gift from Prudential Foundation Inc. (Prudential), the philanthropic arm of Prudential Financial. The funding will support the Conservancy's food security programs, including the COVID-19 Emergency Food Distribution effort, along with programs and activities at the Conservancy's Hawthorne Avenue Farm.  
Organized by Caresparc Consulting, Inc., the Covid-19 Emergency Response Food Distribution Effort has been delivering fresh food and produce to 1500 seniors and 600 families weekly in the city of Newark since April 2, 2020. In addition to Caresparc Consulting and Greater Newark Conservancy, other partners include Table to Table, which provides the bulk of the food distributed; and Rutgers New Jersey Medical School Covid-19 Team and Jersey Cares, both of which provide weekly volunteers.  
Funding from Prudential will also support the Conservancy's three-acre Hawthorne Avenue Farm. Located in the south ward, the farm boasts over 100 rows planted with vegetables, a fruit tree orchard, a school garden, and 250 raised garden beds where families plant and grow their own vegetables, herbs and fruit through the Plot-It-Fresh program. With no major supermarkets nearby, the farm is a vital source of fresh produce for many local residents. Considered an essential service for food production, the farm has remained open and active throughout the pandemic. Staff and volunteers planted and harvested produce such as asparagus, watermelon, bok choy, squash, blueberries, garlic, tomatoes, sweet potatoes, strawberries, and much more.
"Relieving food insecurity and providing fresh nutritional ingredients in this critical time when the pandemic is overwhelming many Newark residents is an incredible achievement," said Eugene Fredua-Agyeman, Vice President, Financial Analysis, Asset & Liability Management Finance who also serves as a Conservancy board member.  "Prudential is a long-time partner of Greater Newark Conservancy and this grant furthers our commitment to combat food insecurities along with more recent partners such as AeroFarms, Whole Foods and ShopRite. This grant is another way to support innovative solutions to systemic problems."
Prudential has deployed more than $2 million in immediate coronavirus relief funding.
"This extraordinary gift from Prudential will relieve some of the burden of the cost of what we do, so we and our volunteers can focus on our critical mission and keep our efforts going," said Robin Dougherty, Greater Newark Conservancy Executive Director.