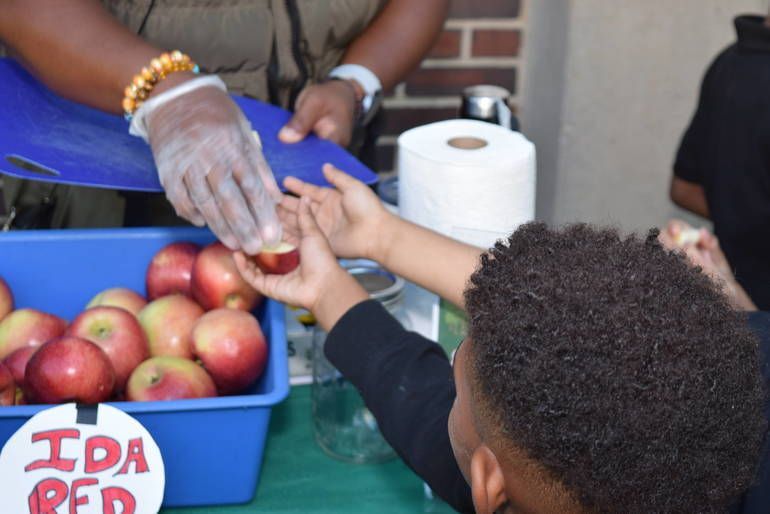 Newark, NJ - The Coalition for Healthy Food in Newark Schools (HFiNS) is thrilled to announce its official launch, bolstered by a generous grant of $3.8M from Novo Nordisk. This funding spans three years and is dedicated to improving the Newark school food system with community participation and input. Greater Newark Conservancy is serving as the lead organization in this initiative with this award representing the largest grant awarded to the agency in its 36-year history.
HFiNS steering committee includes agencies that serve Newark, including the Greater Newark Conservancy, The Common Market, FoodCorps NJ, Newark Beth Israel Medical Center/RWJ Barnabas Health, United Way of Greater Newark, Urban Agriculture Cooperative, Wellness in the Schools and more. All work together with the shared goal of transforming Newark's school food system, these partners are committed to ensuring every student has access to fresh, healthy, and culturally relevant foods.
During the summer of 2023, over 100 community members were engaged in a comprehensive survey conducted both in-person and virtually, showcasing the robust community interest and involvement in the coalition's mission. Participants were asked a series of questions to prioritize aspects of the Newark School Wellness Plan and future priorities for the HFINS coalition. Feedback on the Wellness Plan revealed "Using Fresh, Healthy Food in Newark School Meals" as the top priority of Newark community members, followed by "Promoting Healthy Eating" and "Integrating the Curriculum with Food." Concerning HFINS future priorities, residents indicated "Cultivating green spaces" and "Fortifying our foundation and community buy-in" as the key next steps for the coalition.
Residents also provided additional input, emphasizing the significance of residents diverse and nutritious meals with inclusive options, such as vegan dishes and alternatives to milk. The community also prioritizes comprehensive food education, with a focus on farming, nutrition, and health, alongside sustainable initiatives, from rooftop gardens to composting and food waste reduction. A full report from the engagement will be made available by the end of 2023 on the forthcoming HFiNS website.
Natasha Dyer, Executive Director of the Greater Newark Conservancy, expressed her enthusiasm, "We're excited to embark on a journey with our partners and the Newark community to transform our school food system to one that supports the health and well-being of all students."
"Programs like Healthy Food in Newark Schools have huge potential impact for both the children and schools that they serve, as well as in the broader Newark community," shared Jennifer Duck, Vice President of Public Affairs at Novo Nordisk Inc. "When we work in partnership with organizations like Greater Newark Conservancy to focus on preventative interventions, such as healthy food access, we can together help improve long-term health outcomes and reduce the prevalence of chronic disease, building a healthier next generation."
The funds allocated will advance multiple initiatives and programs related to HFiNS mission to advance healthy school food in Newark with The Common Market, FoodCorps NJ, Wellness in the Schools, Urban Agriculture Cooperative, RWJBarnabas Health's 'Kids Fit' program, and the Greater Newark Conservancy. Initiatives will work to strengthen the coalition's backbone, focusing on improving coordination, enhancing local agency capacities, and ensuring accountability across the school district. Initiatives under the Coalition will also provide more FoodCorps service members supporting Newark area schools, the distribution of thousands of produce boxes to elementary-aged students, increased logistic capacity for the delivery of fresh local produce to Newark schools, and a holistic culinary training approach for food service professionals.
About HFINS: The Coalition for Healthy Food in Newark Schools was initially conceived in 2022 with seed funding from Newman's Own Foundation and Novo Nordisk to support the formation of the steering committee and community engagement to identify implementation strategies upon launch. Led by the Greater Newark Conservancy, HFiNS collaborates with local institutions like the Newark Board of Education, The Common Market, FoodCorps NJ, Newark Beth Israel Medical Center/RWJBarnabas Health, United Way of Greater Newark, the Urban Agriculture Cooperative, and more. The coalition is dedicated to transforming the school food system in Newark, ensuring access to fresh, healthy, and culturally-relevant foods for all students.
Why This is Important: More than 2,000 residents of Newark do not live within one mile of a store that sells fresh produce. In the 2022 Essex County New Jersey Community Health Needs Assessment, more Newark residents reported consuming fewer fruits and vegetables (2 or less) and having high blood pressure than residents of all other cities in Essex County -- and these issues disproportionately impact Black and LatinX populations. As a key social determinant of health, a radical transformation of Newark's food system is warranted to disrupt the generational cycle of poor nutrition and chronic, diet-related illnesses prevalent in the city.
While dozens of organizations, including the project partners, have been working with schools across the district for years -- these services are not closely coordinated or available district-wide. Each ward where schools are situated also varies in its population density, socio-economic conditions, access to fresh, healthy foods, and access to nutritional and health information. Similarly, schools across the district bring varying needs and resources to bear, including student population demographics, access to space for school gardens, food preparation equipment, and food service worker skills. The broken supply chain of local food to low-income families, whether at home or in school, perpetuates food injustice which is directly connected to the upstream causes of chronic diet-related illnesses prevalent in Newark.